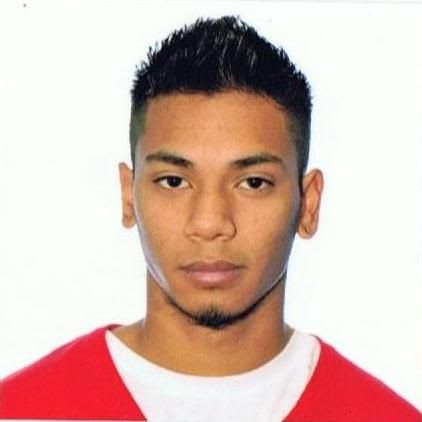 Nationality: Filipino/Canadian
Birthplace: Toronto, Canada
Positions: Prefers playing midfielder but can play the striker pos.
Meet Malven Francis a Canadian who happens to be of half Filipino and half Sri Lankan roots. He lives, breathes and eats football and there's nothing more he'd rather do than play in the UFL and with the Azkals U23 team.
It has been a few months now when Malven and his brother has tried to get help with contacting the PFF to offer himself for our much maligned U23 team but all efforts came to naught. He also have stated that one of his friends and former team mate was part of the U19 team as a goal keeper and that he was instructed to email them but has so far have gotten no reply. So he has decide to take the plunge, an all or nothing gamble. He will make his home base in the Philippines and tryout for a UFL team and hopefully prove himself worthy of a spot with our U23 team!
Malven wishes anyone who is interested to know that he has played in the top youth division in Ontario, which is also the largest and most football-competitive province in Canada. He has also played briefly in the U.S. against American colleges and universities but more importantly has played in different Mens leagues since the age of 14 on the side.
In his own words: "I just need help in getting an opportunity, just one tryout and I'll be able to show my talent. I keep getting referred to another person over and over again and seems like nothing is being done. I will be able to make a difference in the Filipino football scene. A quarter of the Canada under-20 national team are my friends and former teammates, some who are playing in Europe. I was left behind because I took a year off school and turned down some US colleges and universities because I wasn't sure what I wanted to do for school. It bothers me that the people I know who I played alongside with the same skill level are doing so well. I would like that for myself and I see that football is booming in the Philippines. I would like to contribute to that and help establish the Philippines as a contender in the Asia-Pacific region."
Asked to give insight on his strength as a player, this is what he has to say: "I bring a commanding presence on the field and lead by example off the field as well. I play both ways with a high understanding of the game... ...so the game has become easy. "
On aggression: "I don't give defenders or attackers any time on the ball I quickly pounce on players with my speed."
On speed and quickness: "I am very quick with and without the ball I have great speed, great acceleration to beat players, run down the line and to track back."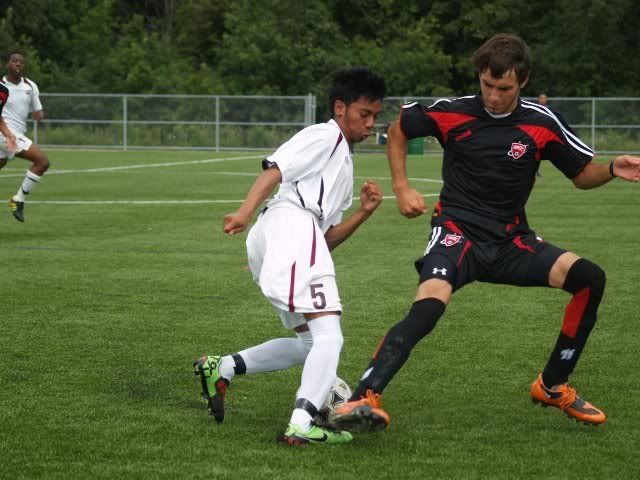 Here are some of his soccer achievements:
2010-2011: York Region Shooters (CSL)
2010: Wexford Heat Soccer Club (OYSL)
2009-2010:Pickering Power Soccer club (CSL Premier)
2008-2009: Ajax Strikers Soccer Club (CSL Premier)
• 2010/2011: Lifted my intensity, focus and understanding of the game under Junior Groves(International player [Jamaica Player of the Year 1982] and coach) Master's Futbol Academy.
• 2010: Finished 1st in the Mad Dog Showcase tournament(A U.S. competition) with Wexford Heat Soccer Club.
• 2009: Finished 1st in the Ottawa Cup Tournament with Pickering Soccer Club and was rewarded MVP of the tournament.
• 2007-2011: Made high school soccer team every year and successfully made it past the LOSSA quarterfinals every year.
* CSL is the 3rd tier in Canadian soccer, OYSL is the Ontario Youth Soccer League. Keep in mind he was in these teams while still in high school!
You want videos? Come to our hangout (<-- click) !
Still not convinced that he is deathly serious about football? Well, this year he continue to not only play but hone his skills on the pitch at the Masters Futbol Academy (Canada) and is a "Showcase Scholarship Prospect" of the school for Canadian or American Universities. Any UAAP schools interested? Because if he is able to play in the UFL(U23, or both, while attending college) he is interested in that too!
As for my long suffering U23 team, in the recently concluded AFC U22 Asian Cup Qualifiers our opponents scored 33 goals in 5 games while we only managed a whopping two(2)! Malven has decided to move to the Philippines to better his chances to get a roster spot, maybe, just maybe, we'll get more than a two goal total with him in the team, don't you think Mr. DP?
I can name a few UFL teams who are great on defense but undermanned on offense. You know who you are, don't wait. Send me a comment below for contact info, and don't worry, I'll keep it confidential.
Lastly, Malven has also informed me that to be able to come to the Philippines, he will need to get a loan from his grandmother while his older brother, who will be accompanying him, will need to take leave from work. He has also made arrangements to live with relatives in Manila if by chance he is taken in by a team. He will be arriving in the latter part of August. Sounds like he's done all he can. Your turn next...